Commercial and Industrial Insulation solutions that save energy
Saving energy through efficient insulation systems not only provides significant cost savings to commercial and industrial businesses but also has a positive impact on the environment. Since 1956 GLT Products has been providing our customers with an array of industrial insulation products and solutions. These products and solutions improves safety, increase sound and condensation control, and help meet USDA hygienic requirements, all while covering the most demanding insulation applications and improving the  bottom line.
As a manufacturer, distributor and fabricator, our products are used worldwide in mechanical, thermal and acoustical insulation projects. With over 60 years of experience and over 2,000+ products and accessories, think of us as your partner for all your industrial insulation needs.
Contact us for more information on how our products save energy today for a greener tomorrow. Let our team be your team in guiding you to finding the solutions and products you need. Download a linecard of our total product offering and learn how we can assist you in creating a customized insulation solution to help you save, while also going green.
Vapor barriers are extremely important when insulating mechanical piping, especially cold systems, particularly in high humidity conditions such as the gulf coast. Proper insulation of these pipes will help avoid massive failures that could lead to liability exposure. Also, consideration should be given to joint sealing, as this is also critical to long-term quality and function of the mechanical pipe system.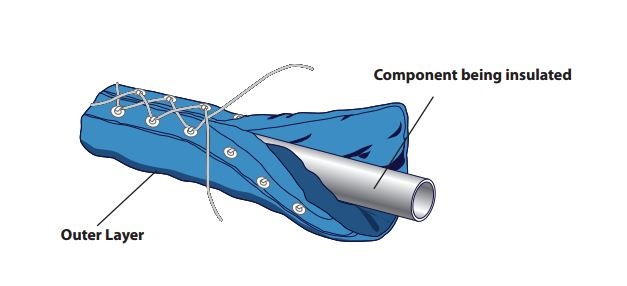 When it comes to the material makeup of a removable insulation blanket, there are a number of material combinations that can be used for the outer facing. Fabricators turn to high-temperature fabrics because they offer strength, durability and heat resistance.